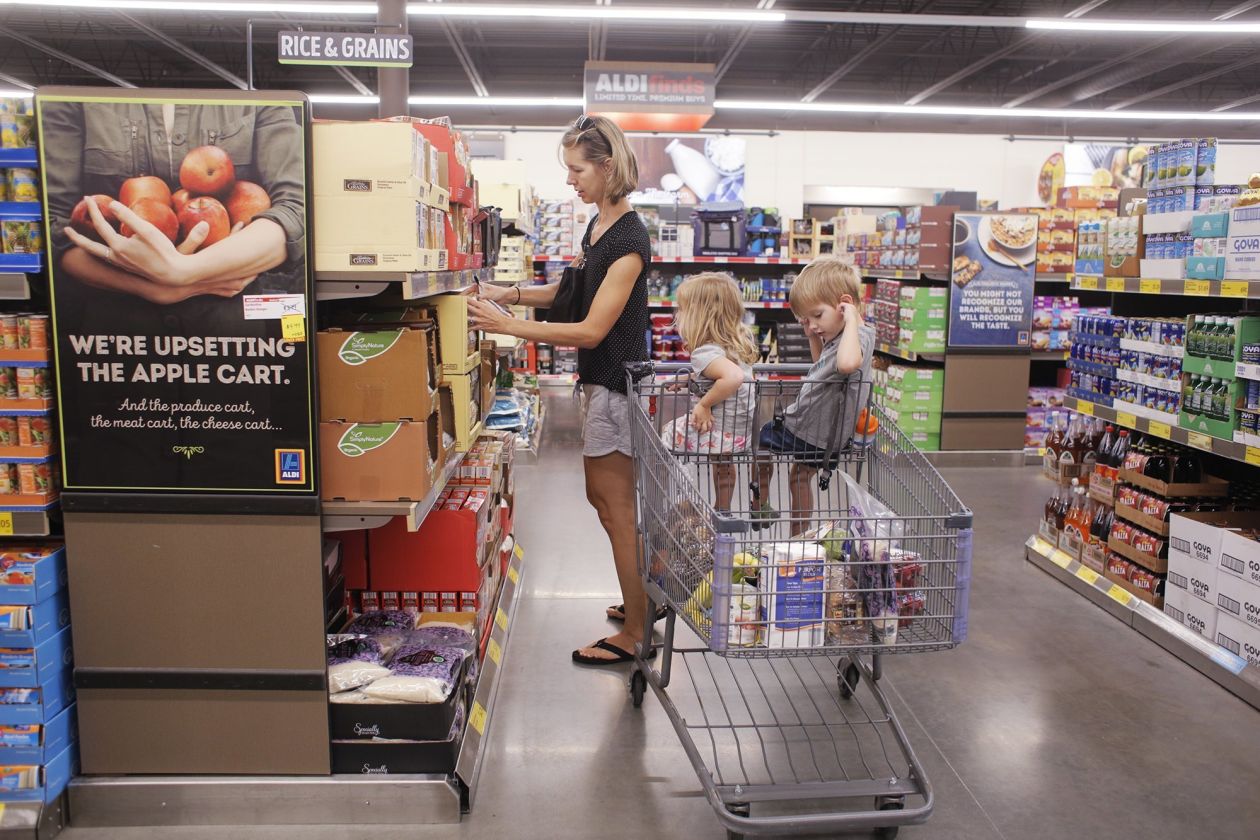 Inflation picked up modestly in July. PHOTO: OCTAVIO JONES/TAMPA BAY TIMES/ZUMA PRESS
By Josh Mitchell
Updated Aug. 10, 2018 5:20 p.m. ET
A humming U.S. economy is pushing inflation up to levels that the central bank considers healthy. But there's a downside: Americans' paychecks are barely keeping up.
Consumer prices rose 2.9% over the past year, a rate last exceeded in late 2011, the Labor Department said Friday. Core prices—those outside of volatile food and energy-related expenses—climbed 2.4%, the biggest annual gain since September 2008.
The rising cost of things like rent, gasoline and health care is another sign the economy is kicking into a higher gear after years of slower growth. Businesses raise prices when they feel Americans are able and willing to spend more. For much of the expansion, inflation remained stubbornly low, prompting an unprecedented stimulus campaign from the Federal Reserve to counteract its anemia.
But rising prices are now eating up much of Americans' wages gains, restraining their ability to spend in the future. For just the second time in four years, average hourly earnings—after inflation—fell over the past 12 months, a separate Labor Department report Friday showed.
Workers still came out ahead—barely—but only because they increased the number of hours they worked. Weekly earnings, adjusted for inflation, grew 0.1% in the past year.
"It seems like any time we get any kind of raise, any kind of opportunity, expenses rise," said Simeon Weinraub, a 49-year-old self-employed video producer.
His landlord this month raised by 10% the rent on the house he shares with his pregnant wife and two kids in Pasadena, Calif. Mr. Weinraub and his wife, a charter-school superintendent, make almost $200,000 combined. But with monthly rent now at $2,750, child care at about $1,000, and other expenses, the family feels squeezed, he said, adding: "It doesn't feel like it's sustainable."
Paltry Paychecks
Inflation ate up all of the gains in workers' hourly pay in July.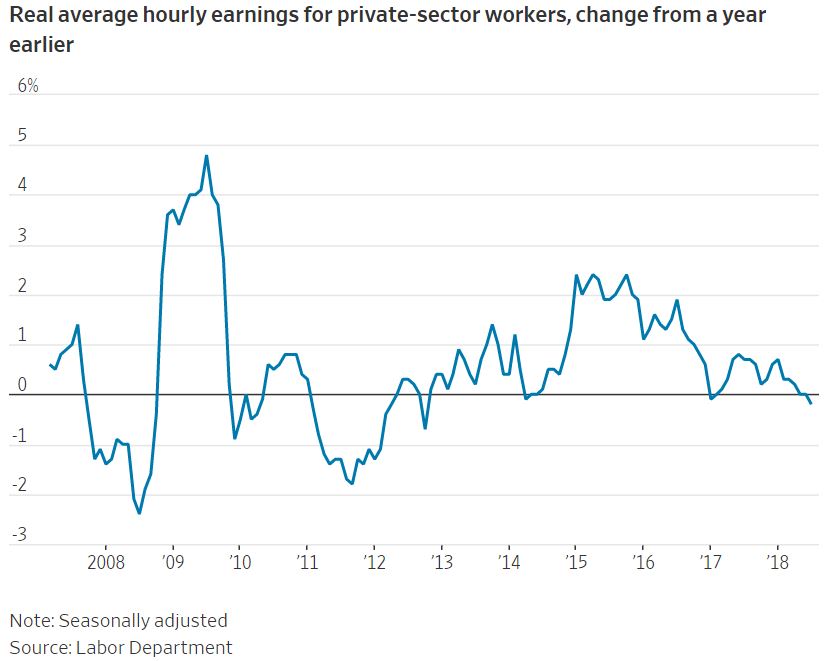 Jan. 2018×0.7%
Many economists expect inflation to slowly rise but remain tame, in part because the Fed plans to gradually raise interest rates to prevent the economy from overheating. Friday's report likely bolsters the central bank's plans for two more rate increases this year. The Fed prefers inflation at 2% annually—as measured by a separate Commerce Department gauge. Inflation by that measure appears to be roughly at the Fed's target after years running below it.
Rising consumer costs could upend any political messaging ahead of the November midterm elections. Gross domestic output grew at a 4.1% annual rate in the second quarter, the strongest quarter since 2014, and economists project growth will clock in at 3% for 2018 as a whole. President Trump, a Republican, has pointed to the GDP numbers as a sign his economic agenda—including deregulation, a tax cut and efforts to revamp trade deals—is working.
He also points to a historically low unemployment rate of 3.9%.
But along with such strong growth can come faster inflation, which cuts into purchasing power, and Democrats are pointing to modest wage growth as a sign the economy's gains aren't being spread evenly.
"Workers are not benefiting from the Trump economy," the Democratic National Committee said in a statement after Friday's report.
Many economists believe workers' wages will pick up. For one, the recent rise in inflation is partly due to higher energy costs, which tend to be volatile and could recede. Also, home sales have fallen and apartment construction has boosted inventory in some cities. Such developments could bring down rents and slow home-price growth, which have been among the biggest drivers of inflation in recent years.
Inflation Gauges
Change in consumer price-index, excluding food and energy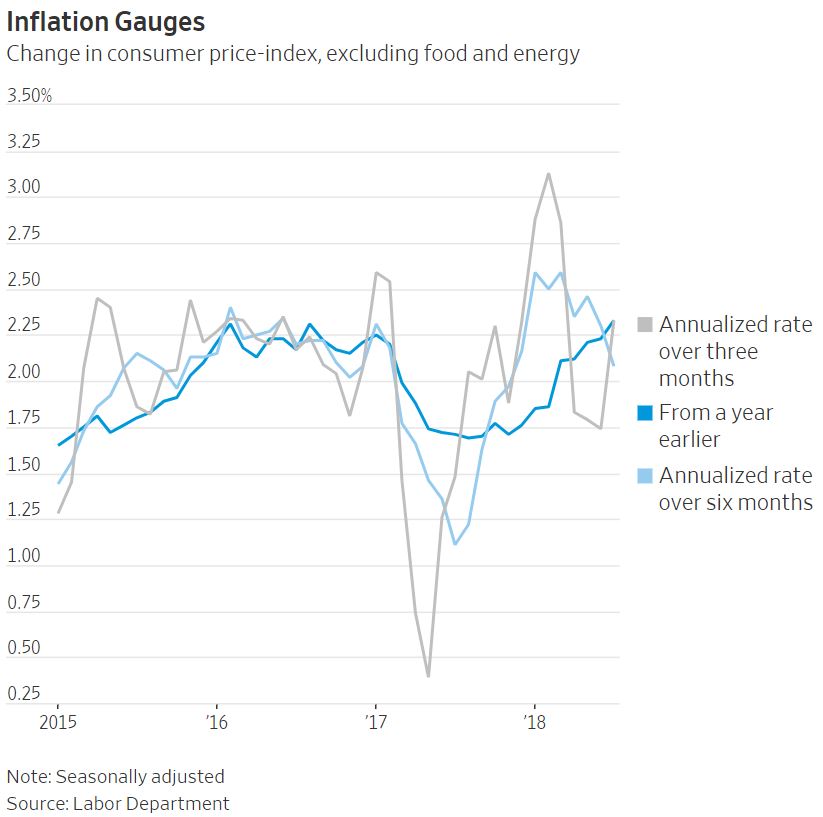 Meanwhile, companies, which have raised wages in recent years as unemployment fell, may have to raise them further as workers become harder to find.
For now, price increases appear to be modest but not crippling.
In Boston, Tommie Chavis's landlord has raised his rent by $100, or 4%, over the past year for the apartment he shares with three roommates. They are set to pay $2,600 a month soon.
Mr. Chavis, 24, who recently earned a master's degree and is applying to dental school, is about to start a full-time job at Target to help cover costs.
"It's annoying, but if it was not split four ways it would be a hassle," Mr. Chavis said of the rental increase. He says he has kept the lid on his other costs—for example, his gym membership is only $10 a month.
Corrections & Amplifications
Average hourly earnings fell over the past 12 months for just the second time in the past four years. An earlier version of this article incorrectly stated they fell for just the second time in six years. (Aug. 10, 2018)
Write to Josh Mitchell at joshua.mitchell@wsj.com